Commercial Finance
about pronto commercial finance
Get the Ute, Van, Trailer or Equipment that's right for your business needs
Business Vehicle loans are a major part of our business. Let one of our business finance specialists guide you through the process from start to finish. Pronto United Finance has been helping customers all across Australia for all forms of motor vehicle and equipment finance including:
Asset Leasing
Chattel Mortgage
Low Doc Finance
Equipment Rental
Our team cares about your business and knows how important good reliable vehicles can be. Contact us for a quote or pre-approval today!
Contact Pronto United Finance on 1300 2 776 686 for more information or click below to request a quote.

THE PRONTO PROCESS
Quick
Easy
Flexible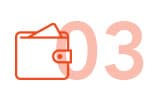 Once approved, the funds will be transferred either to the dealer or your bank account depending on the requirement.
about pronto united finance
How much do you need?
Use this handy calculator to get an idea of what your repayments will be. This is only a guide; a finalised monthly repayment amount will be determined once you fill in a quote form and our staff process your loan application.
Our minimum loan term period is twelve months.
See how much you
qualify for today!