Marine Finance
about pronto marine finance
We'll have you on the water in no time.
Looking at a new or used boat or Jet Ski? Let our dedicated team find you the most competitive lending solution to get you onto the waterways sooner!
Pronto United Finance are your finance specialists when it comes to finance for your next boat or Jet Ski purchase. Talk to us before you walk into a dealership, get your pre-approval in place and have more bargaining power!

THE PRONTO PROCESS
Quick
Easy
Flexible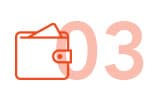 Once approved, the funds will be transferred either to the dealer or your bank account depending on the requirement.
about pronto united finance
How much do you need?
Use this handy calculator to get an idea of what your repayments will be. This is only a guide; a finalised monthly repayment amount will be determined once you fill in a quote form and our staff process your loan application.
Our minimum loan term period is twelve months.
See how much you
qualify for today!